Zuma Blitz Troubleshooting
Zuma Blitz Troubleshooting
Online games running sluggishly in Internet Explorer 10?
Players who have recently updated to Internet Explorer 10 may be finding that online games are running slowly and sluggishly. This is a known issue relating to the way the browser interacts with Adobe Flash, and Microsoft is working on a solution.
In the meantime, here are the suggestions we have to offer:
Try another browser.

Google Chrome and Mozilla Firefox are both free downloads. Give one of those a shot!

Uninstall Internet Explorer 10 (Windows 7 users only)

On Windows 7, uninstalling the latest version of Internet Explorer automatically reverts you to the previous version, and Internet Explorer 9 works with Flash just fine! You can always reupdate to IE10 when the issues with Flash are resolved.

On Windows 8, please simply use Chrome or Firefox for the time being, as there is no way to install an older version of Internet Explorer.
How to clear your browser cache & cookies
We have provided the basic steps for clearing your browser cache/cookies in most common browsers. However, as you may have noticed, the basic steps for completing simple actions change all the time. Software is constantly updated, and little details are altered each time. We strive to keep this updated whenever we notice the processes are changed and whenever a new browser or version is released. If the steps for any particular browser are no longer quite what you see here, please simply check the Help menu for your browser to find the updated information.
Disclaimer: Clearing your cache may fix game issues, but may also result in the loss of automatically saved passwords and web page settings.
Internet Explorer 9 or 10:
Launch your Internet Explorer browser.
Click on the Tools icon at the top right corner of the browser window.
Click Safety, then Delete Browsing History.
Make sure Temporary Internet Files is selected.
Click Delete.
Close your browser and restart Internet Explorer.
Internet Explorer 8:
Launch your Internet Explorer browser.
Click on the Safety menu at the top of the browser.
Click Delete Browsing History.
Make sure Temporary Internet Files is selected.
Click Delete.
Close your browser and restart Internet Explorer.
Firefox for PC:
Choose 'Tools' from the main menu (at the top of the Firefox window).
Click on 'Clear Recent History'
In the drop-down menu "Time range to clear:" please select Everything.
Select all the checkboxes other than 'Cookies,' 'Active Logins,' and 'Site Preferences.'
Click the 'Clear Now' button.
Your computer may take a minute or two to delete everything.
Now, close all Firefox windows and re-open Firefox again.
Firefox for Mac:
Launch your Firefox browser.
Click on the Tools menu at the top of the screen and select Clear Recent History.
In the drop-down menu "Time range to clear:" please select Everything.
Click Clear Now.
Close your browser window and restart Firefox.
Google Chrome:
Click on the Customize menu icon (looks like three parallel lines) at the upper right.
Scroll down to Tools, then to Clear browsing data in the Tools submenu.
On the window that opens, you will see a checklist. Please make sure Clear browsing history, Clear download history, Empty the cache, Delete cookies and other site data, & Clear data from hosted apps are checked.
At the top of the window, select "the beginning of time" in the drop-down menu.
Click the Clear browsing data button.
Safari for PC:
Click on the Gear icon at the top of the Safari window.
Select Reset Safari.
Make sure "Empty the Cache" is selected. (Unselect any items you do not want to reset.)
Click Reset.
Close all Safari windows and relaunch Safari.
Safari for Mac:
Launch your Safari browser.
Click on the History menu at the top of the screen.
Click on Clear History from the drop-down menu.
Click Clear.
Close your browser window and restart Safari.
Internet Explorer 7:
Launch your Internet Explorer browser.
Click on the Tools menu at the top of the browser.
Click Delete Browsing History.
Click Delete All.
Close your browser and restart Internet Explorer.
Internet Explorer 5.x and 6.x:
Launch your Internet Explorer browser.
Click on the 'Tools' menu at the top of the browser.
Click on 'Internet Options' from the drop-down menu.
Click on the 'Delete Cookies' button.
Click on the 'Delete Files' button.
Click 'OK'.
Close your browser and restart Internet Explorer.
How can I make the game bigger on my screen?
You can "zoom in" with your browser by using the following keyboard shortcuts:
Ctrl and + will zoom in.
Ctrl and - will zoom out.
Give it a try!
Note: if you have been actively playing the game, please make sure to click an area of the screen outside of the game board before using keyboard shortcuts. An area of empty white space to the side of the game will shift the focus to the browser as a whole, allowing the keyboard shortcut to be applied.
Basic troubleshooting steps for free online games
Most games work in multiple browsers but will still exhibit better performance in some than others. If you are having difficulty with your online game performance, we strongly recommend trying alternate browsers.
In order to play the free online games, certain components need to be installed and activated on a computer through its browser. Depending on your computer and the browser you are using, you may need to install or update Flash. If the necessary add-ons are not installed through the computer's Internet browser, our free online games will not operate properly. Please refer to your computer's help articles or your browser's help articles for further help installing and activating these components.
Other possible issues that could cause blocking of our Online games may be firewalls and virus scanners. We recommend you add our site to your list of "Safe" or "Trusted" Sites for your browser, firewall and virus scanners. Please refer to your software's help articles regarding adding safe/trusted sites.
Further instructions on resolving online games issues:
1. Clear your Internet cache.
Clearing your Internet browser cache/cookies can fix many common issues with pages failing to load. Some browser components may need to have their cache cleared as well. We have provided steps for most common browsers here.
Restarting your computer after following the above steps can also help the performance of the game.
2. Update Flash.
You may need to install or update to the latest version of Adobe Flashplayer.
http://get.adobe.com/flashplayer/
If you need assistance installing the latest version of flash, you may find instructions on the page:
http://www.adobe.com/products/flashplayer/productinfo/instructions/
3. Security Concerns.
Some antivirus or personal firewall applications incorrectly identify our products as viruses and disrupt or block the software from downloading or registering. Please be assured that products that come from PopCap Games are virus free. We recommend that you visit your AntiVirus Software website for the latest virus definitions to allow the component to load properly.
Still having trouble?
If you require further assistance, please click on the "Contact Us" button below and provide us with the following information so we can assist you:
What is the name of the game you are having a problem with?
Important: What Operating System (OS) and Web Browser (Name and version number) are you using?
Describe the problem you are experiencing. Does the online game window partially appear? Is it opening and stalling?
Please describe the exact steps you are taking when trying to access the game. (including the exact button/link you are clicking on).
Are you having the same problem with any of our other online games?
Did you receive an error message? If so, what did the error message say?
Thank you in advance for providing these details.
Where do my game posts show up on my Timeline?
The new Facebook Timeline feature has changed the order in which your activities appear on your profile page. There are many factors that affect your game activity posts and who can view them.
App Permissions Settings
When you first start playing a game on Facebook, you must allow it certain permissions. One of those permissions is "Post on my behalf." Please note that "Post on your behalf" does not mean the game will post without your permission! When you click "Share" on a high score or achievement, the game needs to have permission to complete that action of sharing on your behalf.
Click on "Edit settings" beside the app to make sure that "Post on my behalf" is listed as a permission you have allowed for the game. Next, you'll want to make sure you have not set the app's posts to be hidden from people you want to see them.
Lower in the "Edit settings" menu is a header called "Posts on my behalf:" where you will see a drop-down menu with groups of friends listed. You can choose to allow the game's posts to be viewed by anyone (Public), by Friends, by Friend Groups you pre-define (such as creating a group of your friends who also play the game!), or by "Only Me." If you have at any point set your Posts to be visible to only a certain group/only yourself, that may be keeping you or your friends from seeing your Posts appear.
News Feed View
At the top of your News Feed, you have a "Sort:" option. You can set your News Feed to sort by "Top Stories" or "Most Recent." If you've got it set to sort by "Top Stories," which is the default, then you won't see game/app posts coming up much, because those are rarely considered top stories by Facebook. Sorting by Most Recent will show you the latest activity without preferential treatment assigned based on number of likes or comments, etc.
Recent changes to Facebook have also made it so that hitting "Like" on a page may not be sufficient to add that page's updates to your News Feed. If you know you "Liked" a page but are not seeing any updates from that page, you may need to visit the page and click the "Liked" button, then hover your mouse until the menu appears. If "Show in News Feed" does not currently have a checkmark beside it, you will need to enable that option here.
Where to Look on Your Timeline
Even with your settings and permissions properly configured, you may not know where your game posts are being displayed on Timeline, because they are also not being treated as "Top Stories" on that page. However, any game activity you chose to post should be visible on Timeline. Since Timeline attempts to prioritize your posts and activities rather than displaying them strictly chronologically, app posts will fall lower down on the page than things like status updates, tagged photos, or messages from friends.
Scroll down your Timeline, and you will find that below the "widgets" such as your Friends list, recent Likes, game Achievements, etc., you will start to see your app posts. They may be aggregated by app title, so you may see several recent High Score posts gathered into a bundle that can be expanded to view in full.
For more information on Facebook's Timeline feature, you may want to review the FAQs at http://www.facebook.com/help/.
Why isn't my score saving correctly or appearing on my Facebook page?
Please ensure that you have internet connectivity. If you are not connected to the internet, or have a very weak wireless signal your score may not post. You may be able to solve the problem by logging out of Facebook, clearing your cookies and cache in your browser, and refreshing the page.
Click here for instructions on clearing your browser cache and cookies.
Zuma Blitz options: sound, color blind mode, and more!
| | | |
| --- | --- | --- |
| | | Click the gear icon at the upper right beside "Shop" to open the Options menu. |
| | | If you are in the middle of a game, you can access Options by clicking the Pause icon at the lower right corner. |
The Options menu allows you to raise or lower the volume of music and sound effects or mute the game altogether.
You can also turn on Color Blind Mode to change the ball colors to grayscale or disable the Laser Guide if you prefer playing without that feature.
The Laser Guide is a transparent laser beam that points from your frog's mouth to the ball you are targeting and is always the color of the ball currently in the frog's mouth. Using the Laser Guide does not affect your score, but it may affect your frame rate which can slow down the game. If your game is lagging, try turning off Laser Guide (you might also give it a try if you're looking for a little extra challenge!).
The page fails to load correctly at least part of the time; how can I fix this?
Chrome users: Is your cursor missing or in the wrong place?
Many players are suddenly having issues with online games in Chrome. You might be experiencing one or more of the following issues:
I can't click on the buttons
I can't see my cursor
My cursor isn't where it should be on the screen
I try to click on one button, but another button or link is activated instead
The game is slow and laggy
We are happy to say there is an easy way to fix this!
Copy and paste the following into your address bar in Chrome:
chrome://plugins
I know that doesn't look like what you're used to typing or pasting into your address bar! But trust me, this is how it should look:

Your plugins console might load with expanded view already open, or it might load in simplified view. Look all the way over on the right hand side of the page, where the word Details appears.
| | | |
| --- | --- | --- |
| See the little + sign there? That means you are seeing the simple view. Click the + sign to expand to detailed view of the plugins console. | | |
Your detailed view may look like this: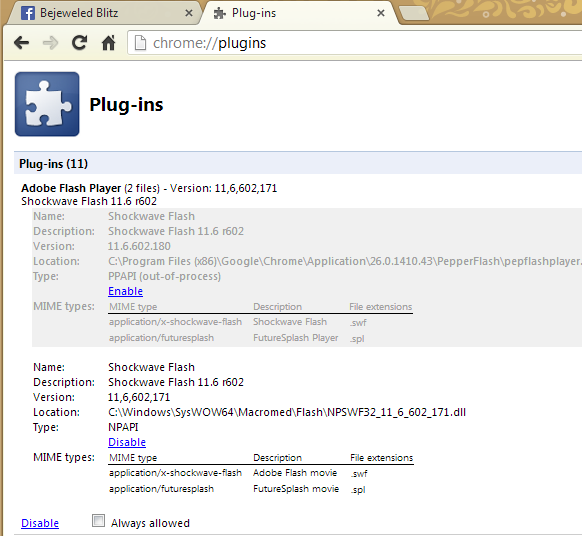 If so, you can fix this issue right now! See how there are two plugins listed under Adobe Flash Player, and one is grayed out? That's what's causing the problem with your games. Just click Enable in the grayed out section, and then close Chrome. When you launch it again, you shouldn't have any further trouble!
The game is running slowly or is non-responsive. I want to go fast!
We're very sorry if your game is not running at its full expected speed! We call it "Blitz" for a reason, and it should feel lightning-fast! That said, there are a number of factors that can affect your game's performance, and we are happy to offer several suggestions for restoring the full Blitz factor!
1. Clear your browser cache.

Clearing your Internet browser cache/cookies can fix many common performance issues. We have provided steps for most common browsers here.
2. Restart your browser.
The simple step of closing your browser and relaunching it may help as well, especially in combination with having just cleared your cache.
3. Update Flash.

You may need update to the latest version of Adobe Flashplayer.
http://get.adobe.com/flashplayer/
4. Close extra tabs you may have open in your browser.
Everything that's happening at the same time taxes your system! If you tend to open a new tab for every webpage you'd like to visit, you're asking your browser to keep track of a lot of information. It's also having to constantly refresh each of those pages...and let's not forget about the advertisements that might be trying to play videos on a tab you're not even looking at...better to just close the ones you won't need again anytime soon, allowing the ones you really care about to function at their best!
5. Update your browser.
If your online activities aren't as zippy as they used to be, it's often because the software that runs them is falling behind the times. We have provided links to download or update the most common browsers:
6. Try a different browser.
It's about finding the right tool for the task...and the right tool for your friends may not be the right one for you. For whatever reason, you may find that one browser renders pages faster or loads graphics more smoothly, and even on your own computer, you may find that certain tasks are better accomplished in one browser while others work more efficently in a different one. There is no reason not to have multiple browsers installed side-by-side, and it gives you more options when you do!
You can use the same download links from above to install these browsers.
7. Close other programs.
Just as keeping multiple tabs open in your browser will cause that program to slow down and chug, running a lot of programs all at once will slow down your whole computer. Take a look at the programs you've got open, and close down any that you don't need right now.
8. Restart your computer.
Again, just as restarting your browser is a useful step to clear it of its hanging processes and let it start from scratch, shutting down your whole computer is just a really nice thing to do every once in a while. Your computer probably works very hard for you and never complains (or rarely, anyway, if you consider error messages to be complaints!), so give it a little "power nap" to restore its mojo. It will thank you by running with greatly increased efficiency (or at least as much as it can muster)!
There are, unfortunately, a few other factors that we are less able to advise you on. If none of the above suggestions have been helpful, or if you are experiencing chronic, ongoing lagginess that never improves, then you may need more in-depth assistance, even professional maintenance for your computer. Be sure you're taking good care of it: avoid clicking on suspicious links; keep your antivirus software up-to-date and scanning regularly as recommended; run your Operating System updates. If you're good to your computer, it will be good to you!