Bejeweled Blitz on iOS
Bejeweled Blitz on iOS
Error Message: "Blocked App"
When you attempt to connect to Facebook from your game on iOS, do you receive an error message that reads "Blocked App?"

This error message indicates that you have blocked the game within your Facebook account settings. Please visit Facebook in your browser to resolve this issue (official Facebook instructions can be found here, or just continue reading for the steps to take!).
Click the gear icon at the upper right corner. A drop-down menu will appear.

Select Account Settings in the drop-down.
On the lefthand side of the page, select Blocking.

At the bottom, there will be a section called Block apps. Any apps you have blocked in the past will be listed there. Click "Unblock" beside the app you want to be able to connect to from your iOS device.
When you launch the game again, you will be able to log into Facebook from the app!
Boosts are special power-ups that you can purchase using Coins. They each last for three games and you can use up to three Boosts at a time.
| | | |
| --- | --- | --- |
| | | The Mystery Gem boost places a random special gem on the board at the start of the match. Get a headstart on your game off with a flame gem, star gem, or hypercube! |
| | | |
| | | Detonator adds a button in the lower left corner of the board that can be pressed to explode all special gems and multipliers at once! This boost can be used once per game. Choose wisely when to detonate! |
| | | |
| | | Scrambler places a button at the lower right corner of the board that can be used to mix up the gems when you're having trouble finding a match! This boost can be used twice per game. |
| | | |
| | | The +5 seconds boost adds five seconds to your time. Five seconds can feel like a long time when you are using it to make extra matches and earn more points! |
| | | |
| | | The Bonus Multiplier starts you off with a x2 multiplier gem at the opening of the game. Match it quickly to start reaping the scoring benefits and hurrying toward your next multiplier! |
How do I choose my Boosts?
At the beginning of each game, you will see the Boost Select screen. From here you can see how many Boosts you have remaining from previous purchases, add or remove new Boosts, and add Coins if you don't have enough to use your selected Boosts.
Will my Boosts automatically refill when they're empty?
If your Boosts run out during a session of Bejeweled Blitz, by default they will automatically refill as long as you have enough Coins to pay for them. When you leave and start a new session your Boost selection will not auto-refill from a previous session (same thing if you switch to a different computer, user profile, or Facebook user account).
You can select whether or not you want Boosts to auto-refill on the Options screen. Just click the box to toggle auto-renew on or off.
My Bejeweled Blitz Coins/scores are different between iOS and Facebook
Since we added greater functionality to the offline mode in Bejeweled Blitz for iOS, it might be a little bit harder to tell whether you're playing offline or connected! If your score or Coin balance isn't consistent between Facebook and your iOS app, you may simply need to connect to Facebook through the iOS app to update your game data online.
Trouble hearing game sounds or music since updating to iOS7?
The recent upgrade to iOS7 has reset some basic system options to their defaults. If you had previously chosen to use the side switch for its "Lock Rotation" function, upgrading to iOS7 has restored its default "Mute" function.
You can alter your preferences again in the Settings app.
The Bejeweled Blitz app is a free iTunes download, and it comes with 50,000 free Bejeweled Blitz Coins to get you started! The app is compatible with any iPhone, iPad, or iPod Touch device running iOS 6 or greater.
Bejeweled Blitz for iOS puts fewer screen taps than ever between you and your next minute of gem-swapping joy! Okay, it's really just one or two taps fewer than previous versions, but still, those are valuable seconds you can use to run your Daily Spin right there in the app!
What features are included in Bejeweled Blitz for iOS?
First of all, we've got plenty of updates already in the works, so if you don't see your favorite features listed below, don't worry. We want to make this the ultimate Bejeweled Blitz app, so we'll keep adding and improving! But for now, the game features include:
Gorgeous graphics
Daily Spin
Sharing high scores and Rare Gems to Facebook
Offline mode with full functionality
Your first 50,000 Coins free!
Coins purchasing through iTunes for fast and easy reloads
I can't see my Ranks, Levels, and Experience Points in the App!
The game is connecting to Facebook, so don't worry!, your Ranks, Levels, and XP are still accumulating and being recorded. When you next visit Bejeweled Blitz on Facebook, you will see the updated Rank, Level, and XP you've earned while playing on iOS. But rather than waste valuable screen space, we have decided to give you a full-screen game board on your device!
I can't rotate my game to landscape view!
For greater flexibility with future updates, we have at this time removed the landscape option from Bejeweled Blitz. We may look into restoring it in the future, but there is no current plan in place to do so.
My iOS device is running an older iOS version.
If you have previously downloaded Bejeweled Blitz on a device that cannot be updated to iOS 6, you will not be able to update your app to new versions. If you need to delete your app for any reason, please ensure you have backed it up to your computer so that you can recover your game.
How do I turn off the notifications from the Bejeweled Blitz iOS app?
Bejeweled Blitz for iOS will notify you of Happy Hour so you don't miss out! If you prefer not to receive these notifications, just follow the steps below on your device:
Tap the Settings icon, then scroll down to the Apps section of the lefthand menu.
Under the Apps heading, find "Blitz" and tap it.
The only option listed will be "Enable Notification." Swipe the indicator from ON to OFF.
This should end your Happy Hour notifications.
Items on iOS -- a new inventory tool for your Rare Gems!
Rare Gems you earn or receive from friends are now stored in the new Items box. This will help you view your inventory and choose the best way to boost your next game! You must be logged into your Facebook account to view and use your Rare Gems stored in Items.
| | | |
| --- | --- | --- |
| | | Just like your Daily Spin, you can access Items by tapping the up arrow at the bottom of the game's main menu. |
| | | Click on Items to view your available Rare Gems! You will see a notification if new Gems have been added since you last viewed your inventory. |
How can I tell which Rare Gems are free and which cost Coins to use?
As always, you may have a mix of earned or rewarded Rare Gems and those shared by friends. Earned or rewarded Rare Gems, such as the Blazing Steed you can earn each week through the 5-Spin bonus, are free to use.
| | | |
| --- | --- | --- |
| | | A free Rare Gem like this Blazing Steed says simply USE NOW. |
| | | |
| | | A shared Rare Gem like these Kanga Ruby invitations from friends shows a Coin price underneath. The envelope symbol also helps to differentiate shares from free gems. |
How many Rare Gems can I store in Items?
The limits are five of each free Rare Gem and 25 of each shared Rare Gem! That should keep you rolling in riches!
Why are some of my Rare Gems grayed out and unclickable?
At this time, not all Gems are available for all platforms. If you are playing on Facebook as well as on mobile devices, your inventory will be visible to you everywhere, but we wouldn't let you try to harvest something in a place where it won't do you any good! If a Gem is grayed out on your iPhone, you can enjoy it later in your browser on Facebook.
Why do some Rare Gems show up as vaulted?
Certain Rare Gems are only available for a limited time, such as Rock-It Blast and Ice Burrst. Those Rare Gems will remain in your inventory in a vaulted state during periods when they are not available for use. When these Gems come back for everyone, yours will still be waiting for you!
We love our players, and the Daily Spin is one of the ways we show it! Just by launching the Bejeweled Blitz for iOS app, you can win free Coins with no more effort than a single swipe of a finger.
How often can I spin?
You can play Daily Spin once for free per day. This free Daily Spin is reset at 10pm Pacific Standard Time.
You can also purchase additional spins through iTunes. Simply click GET SPINS after your free Daily Spin!
If you already left that screen, just open the Options menu by tapping on the Up Arrow icon at the bottom of the game's main menu:

Then tap the tab labelled Daily Spin:
Then tap GET SPINS to purchase extra spins:

Once you've purchased your additional spins, you will see the count of your remaining spins appear under the button: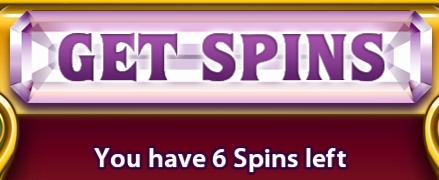 Tapping the button will use one spin at a time, and the number will decrease by one with each use.
How do I claim my Coins from my Daily Spin?
Your Coins are awarded automatically.
What is the 5-Spin Bonus?
This is another way to reward our players even more for coming back every day! If you make at least five spins within the week (the Bejeweled Blitz week starts at 10 AM Pacific Standard Time on Tuesday), you will receive an exciting Rare Gem that you can use for free! Both free and paid Daily Spins count toward your weekly total to earn your free Blazing Steed Rare Gem! There is a limit of one free Blazing Steed per player, per week.
Offline Spins do not count toward your bonus, so make sure to log into Facebook and use your Spins while connected in order to earn your free Blazing Steed each week!
Can I share my Coins with friends?
At this time, Daily Spin winnings cannot be shared from the iOS app. If you plan to share Coins, you will want to run your Daily Spin through Facebook in your browser rather than on your iOS device.
How do I know whether I am playing offline in the Bejeweled Blitz iOS app?
The current version of Bejeweled Blitz for iOS has a robust offline mode that is almost indistinguishable from online play through Facebook! You can run your Daily Spin, play with up to three Boosts at a time, add Coins...it's just like being online! In fact, it's so much like being online that you might not be sure which is which.
If you are uncertain which mode you're playing in, just look at your leaderboard. In offline mode, your leaderboard is populated exclusively by PopCap characters. You will also see a Login prompt in your leaderboard to remind you that you could connect through Facebook at any time.
September 2014: Trouble connecting to Facebook in Bejeweled Blitz on iOS?
If you are having trouble with connecting to Facebook in Bejeweled Blitz on iOS since the latest app update, the steps outlined below should resolve this issue and get you back into your game.
1. Start by logging out of Facebook within the game: Tap the up arrow at the bottom of the game's main menu to open the Options menu.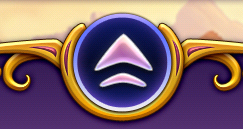 Tap LOG OUT to log out of your Facebook account within the game. To confirm, tap the LOGOUT button that appears.
(If your button says LOG IN, that means you are already logged out of Facebook within the game and can skip to step 3.)

2. Exit the Bejeweled Blitz app, and then force-close it: Double-tap the Home button on your device, and then swipe upward on Bejeweled Blitz to exit it completely.
3. Launch your Facebook app, and then log out of it as well: Open the Options menu by tapping the three parallel lines icon at the top left.
Then scroll down to the bottom of the Options menu and tap the Log Out button. To confirm, tap the Log Out button that appears.

4. Next, log out of Facebook in your device's Settings: Tap the Settings icon on your device.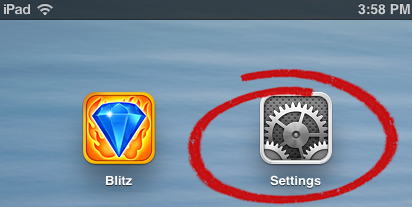 Scroll down to Facebook in the Settings menu, and tap to open that section.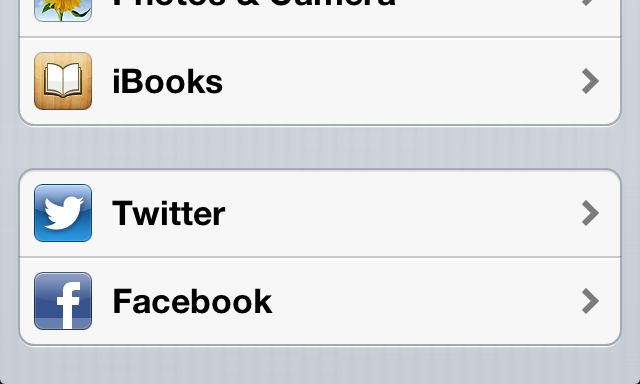 Tap on your name, and then tap Delete Account.
NOTE: This will NOT delete your Facebook account! It will only log out of your Facebook account on your iOS device.
When prompted, please choose Remove Facebook Info, and again, don't worry--it will be restored in our next step!
5. Log back in to your Facebook account: Type in your username (email address) and password, then tap Sign In. Tap Sign In again to confirm.
6. Launch the Facebook app and tap Continue. The app did not require a separate login process, because you logged in through the Settings menu in the previous step.
7. Launch Bejeweled Blitz and log in to Facebook either by tapping Play with friends on Facebook! on your leaderboard or tapping the up arrow from the main menu, then the LOG IN button in the Options menu.

8. You will now be prompted to confirm that you want to allow Bejeweled Blitz to access your Facebook account. Tap OK to confirm.
Rare Gems are rare and beautiful gems which you can find and harvest by playing Bejeweled Blitz. Each Rare Gem has its own unique gameplay effect!
Moonstone:
The Moonstone splinters into three fragments and lands in your game board as a trio of Star Gems to start you off! It's like Mystery Gem times three, without the mystery!
Cat's Eye:
After your Last Hurrah has rewarded you for any special gems you had left on the board, Snackers will appear with eyes ablaze to help you score even higher! His multiplier is triple your final multiplier in the game, and each blast from his laser eyes is as powerful as a flame gem detonation! Snackers will rescue a lackluster game or send a great one into the stratosphere!
Phoenix Prism:
The Phoenix Prism captures the light reflected from all the gems on the board, giving it a beautiful rainbow shine. Due to this unique interplay of light and color, the prisms are Wild Card gems, able to be swapped to any nearby pair of gems to create an intense chain reaction, each prism causing a diagonal line of gems to explode.
The Phoenix Prism comes in batches of six gems, but only one gem can shine at any given time! Once you match your first prism, you will see the next light up within moments. Match it quickly to bring out the third! If you don't use all six within the minute available, don't worry; you'll see any remaining prisms working to jazz up your Last Hurrah.
Once all your prisms have burst, and your eyes have feasted on the dazzle of colors, the phoenix himself will appear! (Okay, it could be a girl phoenix; it's impolite to ask and downright rude to check!) As he takes his final bow and is reborn, a shower of his own feathers falls around him. Whichever feather he catches in his beak will determine the coin bonus you receive on top of the coins already earned in the game. These will automatically be added to your Coin balance.
Blazing Steed:
When you harvest a Blazing Steed Gem, you will begin your next game with Blazing Speed, which causes gems to drop more quickly and turns every match into an explosion! Blazing Speed usually lasts eight seconds, but this special opening lasts ten so you can start out with a bang, a blast, and a ba-boom!
But wait, there's more. Even after the initial Blazing Speed burst fades, the Blazing Steed continues to make his presence felt. For the whole game, keep an eye on the Flame Gems you match—they're bigger, better, blazing-er versions of their normal selves, taking out a larger area and earning more points.
Finally, when the clock runs out, a herd of fiery horses will stampede across your gameboard, scattering and detonating extra Flame Gems in a blaze of glory!
The Blazing Steed is our special gift to our devoted daily players! While you can find it at random like other rare gems, you can also earn a free Blazing Steed every week through the simple act of completing your Daily Spin at least 5 times within a week. You can use your free Daily Spins or speed up the process by purchasing extra spins.
When you have earned your free Blazing Steed, you will notice that you have something new waiting in your Items inventory.
Kanga Ruby:
Meet the magnificent mustachioed marsupial! The king of kapow! Bruce, the boxing kangaroo! The Kanga Ruby is here to pound gems on your behalf with fists of furry fury! Whenever he appears on screen, a well-placed blow will be delivered to your board, destroying a section of gems.
The Blitzing boxer will turn up to deliver his roundhouses at least three times per game, but you can motivate him to come back even more often by destroying red gems! A Kanga Ruby's favorite gem is red, and as you match these, you will see his meter filling at the top of the board. The more red gems you match, the faster he will return to take another shot!
At the end of the game you will be awarded 100 coins for each red gem you destroyed!
Don't forget to Share your Kanga Ruby at the end of the game! As you share this rare gem, your friends will get to play with evolved Kanga Ruby 2 & 3! (The evolved gems are currently not available on iOS, so be sure to check them out on Facebook!)
The Rare Gem Vault

We love to bring new Rare Gems out to play from time to time! Special occasion Rare Gems like Flower Power, Rock-It Blast, and Ice Burrst are available for a limited time before being returned to the vault. Don't worry--your favorites never stay gone for too long!
Bejeweled Blitz for iOS crashing on launch?
Are you having trouble launching Bejeweled Blitz? Does the game start to launch and then immediately disappear? Is there an error message when you attempt to connect to Facebook from the game? Try these steps to get back to the game!
1. Do you have the current version of Bejeweled Blitz?



Apps are updated regularly, and you will be notified of any available updates via the App Store.

On your device, if you see something like this, four of your installed apps have updates available for download!

Note that not all app updates are right for you--make sure an update is intended for your device, particularly if you are using an older device or iOS version. The app update notes should advise you of potential issues.
You can also check your app version against the iTunes or App Store description to be sure.
| | | |
| --- | --- | --- |
| | | Tap the arrow under Play on your leaderboard screen to open the game's options menu. |
| | | At the bottom of the options screen is the version number. The current version as of October 24, 2014 is v1.5.7 (621). |
2. Try closing any unnecessary apps
Every time you launch an app on your iOS device, it remains open in the background so that it will load more quickly next time you need it. However, this adds up over time to a large number of apps running at once, and it can seriously slow down your entire device. It can also prevent your game from establishing a Facebook connection!
To view all open apps, give your home button a quick double-tap. You should see large tiles for all your running apps, with the app icons along the bottom of the screen:

You can swipe your finger right-to-left to scroll through the pages of open apps. To close an app, swipe its large tile upward, as if tossing it off the top of the screen.
You may be surprised how many apps are running in the background at any given time! Closing the ones you don't actively need just now will greatly improve your device's overall speed and responsiveness.
This process does not delete an app from your device! You can launch the closed apps again the next time you need them.
3. Restart your device
If you've followed the steps above and you still can't get Bejeweled Blitz to start or you're still receiving an error when you try to connect to Facebook, try simply restarting your iOS device. Once the device is restarted, try starting Bejeweled Blitz and connecting to Facebook before starting any other applications.
4. Reinstall Bejeweled Blitz
If simply closing background apps or turning your device off and back on has not resolved performance issues with an app, the next step we recommend is to delete the app and reinstall it.
Note: deleting Bejeweled Blitz will also delete offline progress! Please be sure to backup your data first. You will not lose any online progress, as that is stored on our servers and will be recovered when you connect to Facebook.
To delete an app from your iOS device, simply press and hold the app icon until all the icons begin to jiggle, and an x appears at the corner of each icon.

Tap the x to delete the app.
You can then redownload the app through iTunes or the App Store. Only the iTunes backup will also allow you to restore your saved offline progress.
Basic Troubleshooting for iOS Games
If your game is crashing on your iPhone, iPad, or iPod Touch, try the steps below:
Restart your device.
Your iOS device is a computer, and just like any computer, it sometimes needs to be turned off and on. This simple step will resolve many issues! To power down, press and hold the Power button until the red slider bar appears on the screen. Then drag the slider to confirm you want to turn your device off. Wait a moment before you press and hold the Power button again to turn it back on.

Reset your device.
Press and hold the Power button and the Home button at the same time, holding for more than 10 seconds. Don't release until the Apple logo appears.

Uninstall and reinstall the game.
Just like your device is a computer, your app is a piece of software, so the same basic steps can be useful. "Uninstall and reinstall" is a simple troubleshooting measure.

You can uninstall an app by pressing and holding the app icon until it wiggles, then tap the "x" on it. Reinstalling is as simple as reconnecting through iTunes!

Of course, uninstalling the app will result in the loss of all game progress and user profiles created. It is possible to back up the data through iTunes so that you can restore it. To restore a previously saved state for your apps, connect your device, and open iTunes. Right-click the device's name, and select "Restore from backup."

Note: Please be sure to reinstall through a backup for older apps and on older devices. The current version available for download may not be compatible with your device, so it is safest to reload the version you previously had installed.